Heidi Patterson, DVM, CVA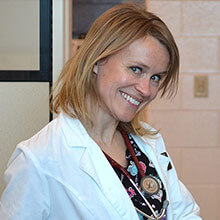 Becoming a veterinarian has been my life's goal for as long as I can remember; as a tiny kindergartener, I told my mom I wanted to be an "animal doctor" when I grew up. And now I'm doing just that! My path to get here has been slightly less direct but no less rewarding, and I'm grateful every day to have the opportunity to help animals and their humans have the best quality of life that they can.
I grew up on my family's farm in east Tennessee, with both large and small animals as my close companions. My undergraduate studies were done at Tennessee Technological University in middle Tennessee, and I graduated with a Bachelor's degree in Biology. Instead of going directly into veterinary school, which had always been my ultimate goal, I decided to delve into research. I worked as a laboratory assistant in a human genetics lab at Vanderbilt University in Nashville for four years, helping to sequence genes for many genetically linked diseases. Ultimately I realized that veterinary medicine was always first and foremost in my mind, so I applied and entered vet school at the University of Tennessee in 2002 and graduated in 2006. Soon after this I moved to Colorado and plan to stay here forever! Hooray!
Veterinary medicine has played such a major role in my life for many years, and I truly enjoy helping people form more positive bonds with their four-legged friends. I strive to educate clients so they can make the most well-informed decisions possible when it comes to caring for their pets. I have many interests in veterinary medicine, but some of my favorites are geriatric medicine, radiology, pain control, and internal medicine.
When I'm not in veterinarian mode, I love hiking and snowshoeing with my dog, a big goofy black lab named Moose; going to concerts; gardening; backpacking; reading (usually accompanied by my sweet orange tabby, Bucky); checking out the newest craft brewery; and very occasionally running.