Irene Takahashi, DVM, CVA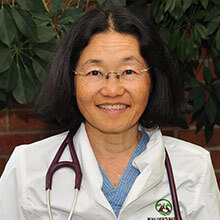 I was born in Hawaii where I grew up until moving to Boulder, CO in 1973 to start my undergraduate studies at CU-Boulder. During my time at CU I spent the summers working for the US Forrest Service in Southern Colorado which eventually led to the opportunity to serve on a hotshot firefighting crew for two seasons. Definitely one of the more exciting experiences of my life!
At one point I had a chance to work for a veterinarian in Tacoma, Washington for a few months. It wasn't long before I was inspired and hooked on veterinary medicine and caring for animals.
I graduated from the veterinary college at Colorado State University in 1987 and began my career as a DVM working at Alpine Hospital for Animals in Boulder. In 1994 I purchased Table Mesa Animal Clinic and practiced there, serving the people and pets of South Boulder and beyond, for 20 years.
In early 2014 I unexpectedly lost my lease to TMAC. However, I was fortunate to be able to relocate my practice to Boulder's Natural Animal Hospital in May of 2014.
My favorite thing about being a veterinarian is going to work and feeling like I've helped maintain the health of an important family member. It brings me great joy to partner with a client and offer assistance to their furry family member through all stages of life.
Outside of the vet hospital my passion is with endurance cycling. Completing the Paris – Brest – Paris race, a 1200 kilometer, 90 hour bike ride, in 2011 was definitely the high point of my adventures. Recently I've added another endurance activity to my repertoire – endurance quilting!
Having lost our last of 9 cats and a dog in May of 2014 my husband, Eric, and I currently do not share our home with a furry friend. But you never know when that can change!