Brinn Granger, DVM, CVA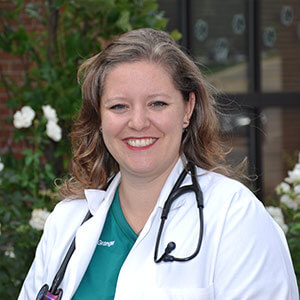 After deciding in the second grade that I wanted to be a veterinarian, I focused my energies and education on that goal. Growing up in Indianapolis, the center of the flatlands of Indiana, I coupled that career plan with a desire to live near the mountains. After earning my Bachelor of Arts in Biology and Business at Hanover College, a beautiful liberal arts school in southern Indiana on the banks of the Ohio River (the least flat part of the state), I set my sights on vet school. I was accepted into the University of Tennessee College of Veterinary Medicine in Knoxville, TN, at the foot of the Great Smoky Mountains - how big I thought they were! In Knoxville, I achieved my lifelong dream of becoming a veterinarian when I graduated in 2016.
My taste for continued learning and bigger mountains led me to an internship in beautiful, colorful Colorado. I had a wonderful learning experience with Aspen Meadow Veterinary Specialists in Longmont, and Alpenglow Veterinary Specialty in Boulder. Over the past year, I have served as a relief veterinarian for several clinics across the front range. In this capacity, I have met and worked with some of the most wonderful clinicians, clients, and patients.
Now that I have settled in near the Rockies, I have no plans to leave! I love everything Colorado has to offer - beautiful scenery, exciting travel destinations, amazing music venues, and peaceful places to celebrate life and recharge my batteries. I enjoy spending time outside, hiking and biking, traveling, trying new food and drink, or just settling in with a good book.
I consider my work not just a job but an essential and meaningful part of who I am. I feel fortunate to be able to give voice to those who cannot speak for themselves, and to serve pets and their families as part of a skilled and caring veterinary medicine team. What could be better than that?