Meet Our Veterinary Staff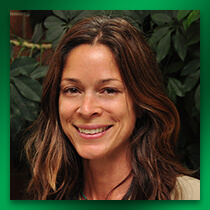 Melanie - Veterinary Technician
There are a few things I love about my job in the veterinary field. I love joking around with my co-workers and seeing new & interesting cases. I like the challenge of treating difficult, uneasy patients; trying to "communicate" with them (for lack of a better term) & instill calmness in them. I love it when it works!
---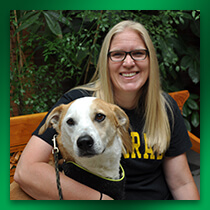 Christy - Client Care Specialist
When I graduated college in 2001 I got my bachelor's degree for Criminal Justice. But since I graduated right after 9/11 happened there were no jobs to be had. Well I had to pay bills and rent somehow so I got a Job at Tenaker Pet Care Center in Highlands Ranch. Needless to say I have never looked back. After about 5 yrs there I moved to southeast New Mexico and got a job at a very small veterinary hospital and was there for about 3 1/2 years before I moved back to Colorado being a native I was very home sick and had a recent death in the family so my son and I moved back and I found a job as a Veterinary Tech I was there for almost 5 years. I actually started here at Boulder's Natural Animal as relief but soon became full time and I love it here. I couldn't even begin to think about doing anything else.
---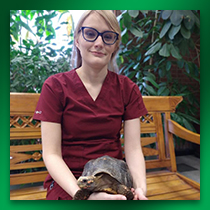 Sam - Client Care Specialist
I have been working at Boulders Natural Animal for about three years, previous to working here I was a pet care specialist at Petsmart and a few other pet stores. Pictured is my tortoise Edgar, but I also have two eclectus parrots, Roxie and Junie, two guinea pigs Coco and Artemis and a bearded dragon named Rex. I love all things pets related and am very happy to work with them daily.
---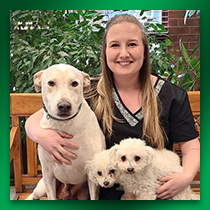 Keny - Client Care Specialist
Growing up as a dairy farm kid I wanted nothing more than to be a Veterinarian, after my undergrad and working in the field for a while as a technician. I decided being a vet was not for me and I really enjoyed the front end positions and have never looked back. I moved out here from my little hobby farm in Michigan in 2019 with my two white fluffs (Bolognese Dogs), Godzilla and Little Beau Peep and adopted Shep (Heeler/Greyhound) shortly after moving here. I absolutely love working at Boulder's Natural Animal and couldn't imagine being or doing anything else.
---