Liv Brockmann, DVM, CVA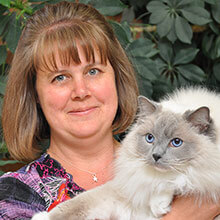 Being accepted to Colorado State University Veterinary school was the fulfillment of a dream I have had since the 6th grade. After receiving degrees in Zoology and Biology with a minor in Anatomy and Neurobiology, I began studies in Veterinary Medicine and graduated in 2001. I completed my Veterinary Acupuncture certification in 2011. I practiced 2 years at Horizon Veterinary Clinic in Brighton, CO and 7 years at Alpine Hospital for Animals in Boulder, CO. Dr. Stacey Adams and I met at Alpine Hospital for Animals. When I saw what an excellent clinician she was and how compassionate she was towards people and their pets, I knew she would be a good partner in our new venture at Boulder's Natural Animal Hospital.
I am a Colorado native and spent my childhood in both Boulder and Longmont. Besides taking care of pets and their people, my passions include gardening, cooking, playing in an English handbell choir and spending time with my 2 nephews. I currently share my home with my full-figured feline, Phat cat.
My favorite thing about being a veterinarian is nurturing the special relationship people have with their pets and helping them to care for that bond through medicine. It is important to me that people feel they can be involved and make decisions about the care their animal needs. While I enjoy all aspects of medicine, I take special interest in internal medicine, soft tissue surgery and geriatric medicine.
I look forward to continuing my education in integrative medicine and am excited to be serving the people and furry friends of the Boulder area.