Stacey Adams, DVM, CVA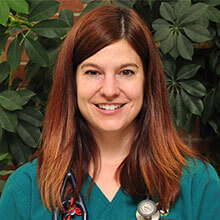 I grew up in Michigan, where I received a Bachelor of Science degree in Chemical Engineering from the University of Michigan in 1997. After several years working as a product development engineer at a large company in Cincinnati, I switched gears and decided to pursue my childhood dream of becoming a veterinarian. My change in career path was motivated by my interest to pursue work that would not feel like work, where each and every day would afford the opportunity to directly be of service helping people and their pets.
To that end, I moved to sunny Colorado and attended veterinary school at Colorado State University, graduating with honors in 2007. I also completed my Veterinary Acupuncture training and certification at Colorado State University in 2007. After veterinary school, I worked at Alpine Hospital for Animals in Boulder for 3 years, where I worked side by side with Dr. Liv Brockmann. In September 2010, together Liv and I purchased Boulder's Natural Animal.
Above all else, my favorite thing about being a veterinarian is helping foster the human-animal bond that people experience with their pets. I enjoy all aspects of veterinary medicine, with particular interest in chronic pain management (including acupuncture), dentistry, internal medicine, and soft tissue surgery.
I'm looking forward to continuing to build my knowledge and skills integrating herbal and nutritional therapies with conventional medicine. I am very excited to have new complementary and alternative options to offer enhanced yet personalized care for my patients.
I live in Boulder with my goofy great dane mix, Daphne, and my smooshy cat, Tina Fey. In my spare time I enjoy hiking, yoga, backpacking, running, skiing, knitting, and eating anything with sprinkles on top!